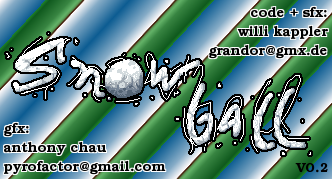 Snowball
Welcome to the Snowball site. Snowball is a free (GPL) jump'n'run game inspired by games like "Solomon's Key" or "Spherical".
Guide Tux the penguin through the levels and help him to bring the snowball save to the exit. Create iceblocks, collect keys, use transporters and beware of traps and monsters!
---
News
2005.12.24:
Merry Christmas!
I wish you all a Merry Christmas and a Happy New Year!
Unfortunatelly there is no new version of Snowball. I had to put it on ice (pun intended :-)
After finishing my diploma thesis, I'll go back and finish it!
2005.10.09:
The next version V0.3 is on the way! Code clean-ups, more levels, better sound and other goodies, so stay tuned!
And I'm very happy to announce a new member in our team: Adam Howard. He has joined as graphician and is working on new and nasty enemies!
Some people have reported problems on MacOS, that I have to investigate. So I'll release a version 0.2.1 before the next big one.
2005.09.19:
New version is out! Snowball V0.2 is finally released. Go and get it, while it's hot! It has 20 completly new levels.
A lot of changes: completly new graphics, made by Anthony Chau.
New enemies: zombie and firedevil
New objects: ladder, clock, bottles, lift, ice-ground, ... Just play the game and find out ;-)
2005.09.09:
The next release V0.2 will be out soon. It took a bit more time, sorry for the delay.
Georgik from games.linux.sk has added Snowball to the database. It's rated with 85%, nice!
2005.08.21:
Finally I found a graphician: Anthony Chau. He's working hard and the result looks really nice, thanks Anthony!
I'm adding new objects and enemies and also cleaning up the code. Expect a new release (V0.2) in a week or two.
Snowball was rated at happypenguin.org and got four stars, wow! Here's the link to the Rate-O-Matic:
2005.08.16:
First release! This is version V0.1, but the game is fully playable! There are only 10 levels at the moment, more to come ;-)
I need a good graphician, so if you are an artist and want to help out, just contact me: grandor at gmx.de.
---
Download
Get the game here. You need python and pygame. Just unpack the tarball start "snowball.py"
The game should run on all platforms that are supported by pygame (Linux, Windows, MacOS, etc.). I've tested it only on Linux (Kubuntu) and Windows 2000 / XP.
A note to KDE users: if you have problems running the game you should try one of the following:
Run Snowball with the following command line: "artsdsp ./snowball.py"
Set the SDL_AUDIODRIVER environment variable: "export SDL_AUDIODRIVER=artsc"
Disable artsd completly: "killall artsd".
See also: SDL documentation
The old version (V0.1) is here.
---
Screenshots
Some in-game screenshots, click to view the big version.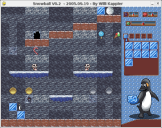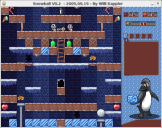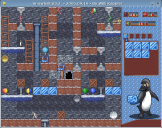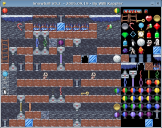 ---
Credits
Code, Design: Willi Kappler (grandor at gmx.de).
GFX: Anthony Chau (pyrofactor at gmail.com) and Willi Kappler.
SFX: Willi Kappler and externalharddrive.com.
Special thanks to Thomas Grosser for the webspace!
---
| | | |
| --- | --- | --- |
| Created using: | | |
---
Disclaimer / Impressum
All the above links have been put there with my full intension! Feel free to visit them ;-)
(If this is not the discalimer you've expected then read this (in german).)
Since I live in Germany and this site is hosted in Germany, I have to put this information on my site: Impressum